Details

Published: 23 June 2015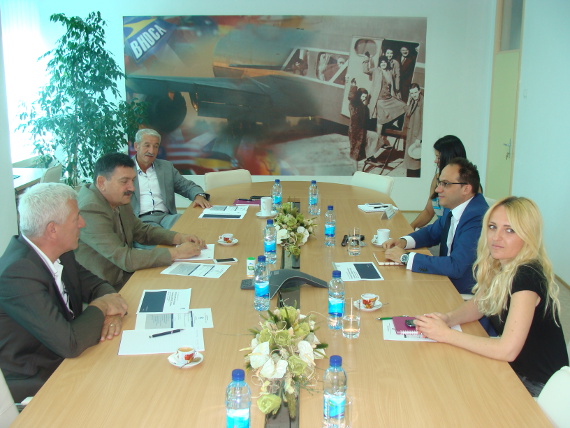 On 23/06/2015 Director General of the BiH Directorate of Civil Aviation (BHDCA) Djordje Ratkovica with his deputies Djelal Hasecic and Marinko Simunovic received on BHDCA premises in Banjaluka Pan-European Coordinator of the European Organization for the Safety of Air Navigation (EUROCONTROL) Dejan Mojsoski and discussed the cooperation of these two institutions and directions of ATM development, both in BiH and Europe and in wider area.
BHDCA Director General Djordje Ratkovica thanked EUROCONTROL for the cooperation and assistance provided during establishment of the BiH System for Provision of Air Navigation Services (BHATM) and stressed that the cooperation has continued through different forms of assistance and support.
"Nowadays, that assistance is reflected in provision of expert advice and training of the Directorate staff, mainly members of the NSA" - specified Ratkovica.
BHDCA Deputy Director General and Head of Air Navigation Division and Airports Marinko Simunovic informed Mojsoski about development of the BHATM System and role and activities of BHDCA, as the body responsible for construction and establishment of the system.
"From the very beginning EUROCONTROL was involved in development and establishment of the BHATM system and provided strong support during all phases of the implementation" emphasised Simunovic and added that this was a complex project both for BiH and for wider area, and also for EUROCONTROL itself and underlined great cooperation and assistance also received from EUROCONTROL in the phase of the ongoing certification of the BiH Agency for Provision of Air Navigation Services (BHANSA)
BHDCA Deputy Director General and Head of Flight Safety and Security Division Djelal Hasecic, in the capacity of the Acting Deputy Director of BHANSA, stressed that the establishment of the BHATM system was a unique and specific project in Europe, due to BiH specific characteristics, and that it was extremely important that EUROCONTROL had supported it.
"Currently BHANSA is conducting activities related to take over of the remaining BiH airspace, which requires modernization of the system and training of additional air traffic controllers, for which we are also receiving EUROCONTROL support" said Hasecic.

The Pan-European Coordinator from EUROCONTROL Dejan Mojskoski expressed his satisfaction about the visit to BiH, which is chairing EUROCONTROL's Permanent Commission this year. He informed the BHDCA management about the functioning of the pan-European coordination and its role and activities.
"EUROCONTROL supports and encourages every form of cooperation of the aviation authorities and service providers, which is in the interest of the region, Europe and wider. We provide support to member states, their aviation institutions and service providers and to safe and efficient implementation of the Single European Sky" - Mojsoski said and added that BiH is an important partner within the EUROCONTROL system.